Halloween Decor Inspired by the Classics
Feeling in the spirit this Halloween and want to create your own haunted manor? Jack-o-lanterns and hanging sheets are great for the kiddos, but they do little for those with more sophisticated tastes.
If you're hosting guests or simply want an eerie, but elegant atmosphere this All Hallows Eve, take a cue from the masters of horror. From Hitchcock to Bram Stoker, Halloween decor inspired by the classics is sure to enchant and bring imagined bumps in the night.
 The Raven
Think poetry is just for lovesick dreamers? Then you've never read Edgar Allen Poe's The Raven. The simple phrase "never more" sends a ghostly message when hung above a mantel and draped with bat garland.
Frankenstein
Welcome to Dr. Frankenstein's laboratory! Snakes and creepy critters become even more menacing when placed inside apothecary jars alongside a few well placed books. Mary Shelley would be proud.
The Legend of Sleepy Hollow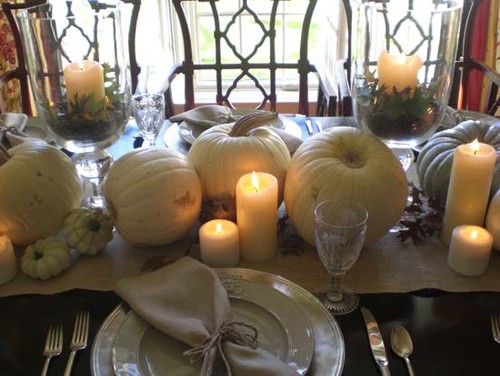 I doubt Washington Irving ever imagined the lasting impact his short story, The Legend of Sleepy Hollow, would have when published in 1820. Recreate the spooky magic of Sleepy Hollow with a tablescape of white pumpkins, candles and rustic linens.
Dracula
With their webbed wings and nocturnal habits, bats were feared even before Bram Stoker wrote Dracula. Greet guests with a flying colony of bats and set the stage for greater frights to come!
The Birds
Via
Black and white framed-images from Alfred Hitchcock's classic, The Birds, are sure to quicken the pulse of any horror fan. Add a faux version of one of the most terrifying villains in horror history, and let the fun begin. Happy Halloween!